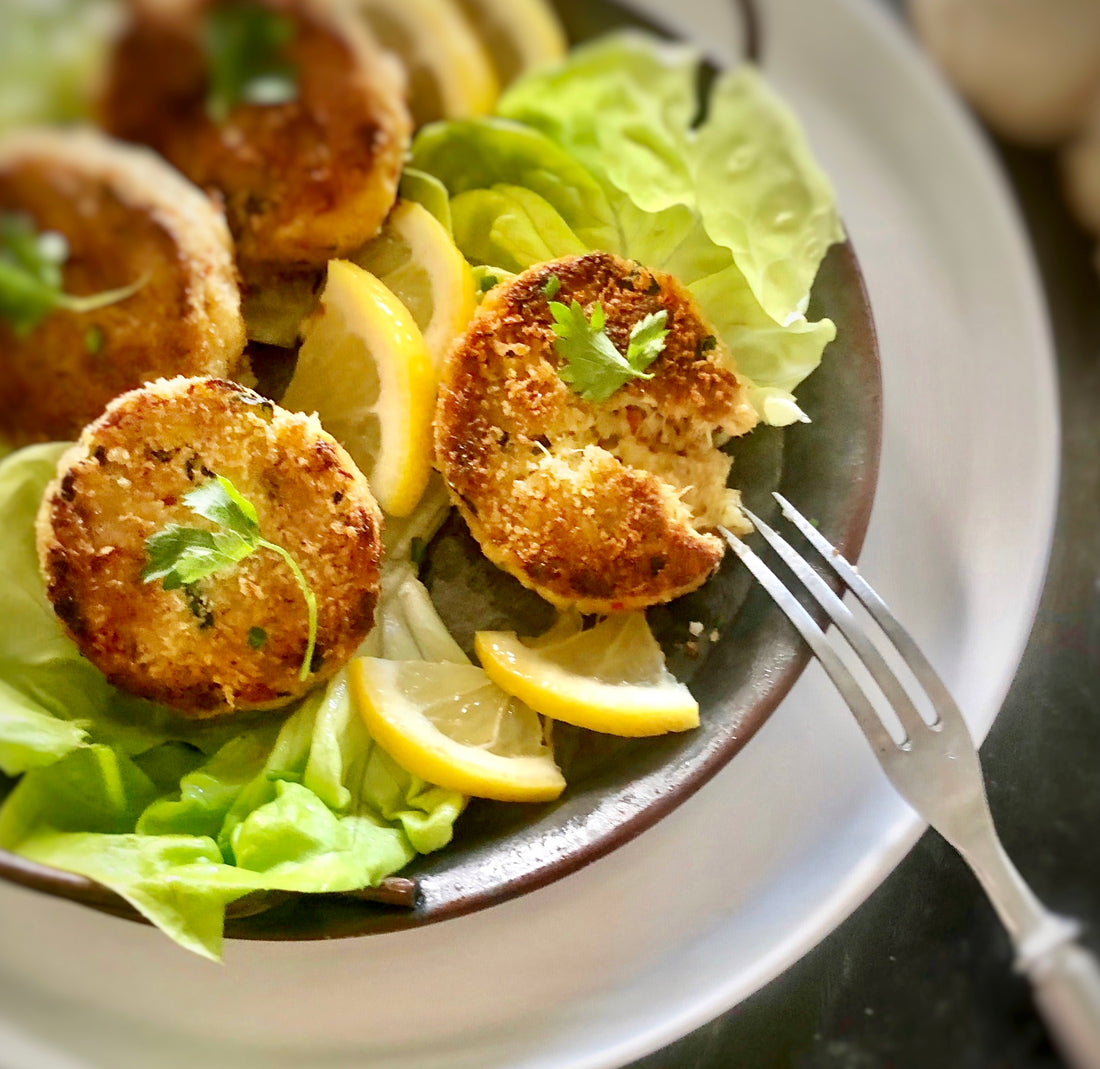 Lion's Mane Crab-less Cakes
A Maryland classic with a fungi twist! Give a delightful taste to your tongue by creatively crafting crab cakes full of deliciously seductive Lion's Mane Mushrooms.
Recipe courtesy of Krista Towns
Makes four to six appetizer servings or 2-3 main course servings
Ingredients
2 cups cleaned and shredded lion's mane
1/3 cup mayonnaise
1 egg beaten
1 fresh red chili, ribs removed, seeded and minced
1 tablespoon minced chives
2 teaspoons minced parsley leaves
1/4 teaspoon grated garlic
1 teaspoon Dijon mustard
1 teaspoon Old Bay seasoning
1/4 teaspoon salt
1/8 teaspoon fresh ground black pepper
1/4 plus 1/2 cup panko bread crumbs
Oil for pan frying (peanut, canola or vegetable)
Directions
Combine lion's mane, mayonnaise, egg, chili, chives, parsley, garlic, mustard, old bay seasoning, salt and pepper in a medium bowl. Fold in 1/4 cup bread crumbs, and form into 3/4″ thick patties, 2-3 for a main course, 4-6 for appetizers. Coat both sides of the patties with the remaining 1/2 cup Panko and place in the refrigerator for 10-15 minutes.
Heat 1/4 inch of oil in a medium sized nonstick pan over medium-high heat. When oil is hot, brown the patties until golden on each side, working in batches if necessary.
Serve with lemon slices and enjoy!
---