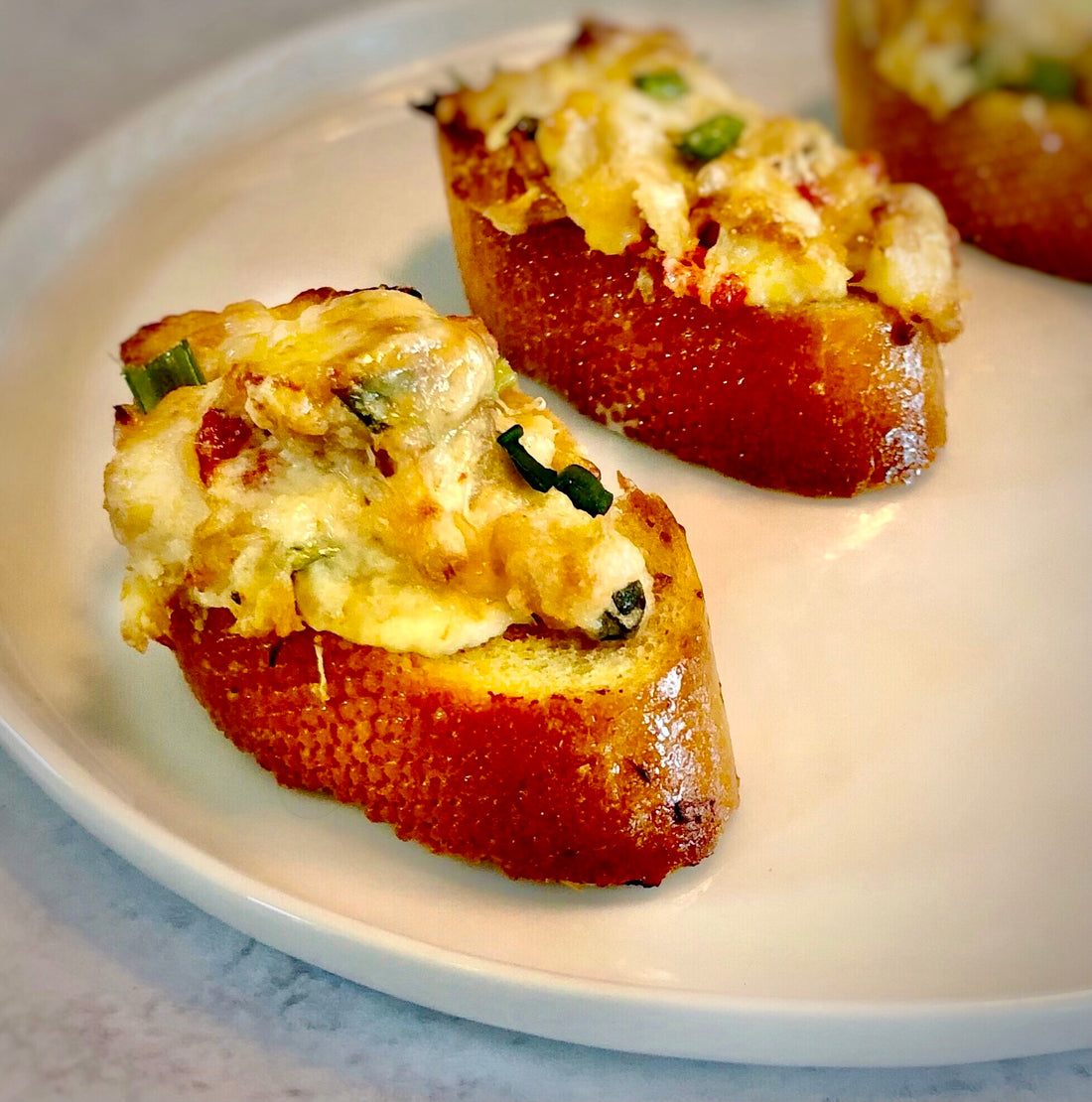 Lion's Mane Crab-less Toast "Puffs"
A delightfully fresh bite of the ocean courtesy of the forest.
Recipe courtesy of Krista Towns
Ingredients
1 medium baguette
Olive oil
2 tablespoons unsalted butter
1 small garlic clove, grated
2 cups shredded and finely chopped lions mane mushrooms
1/2 teaspoon salt
2 tablespoons water
1/2 cup whipped cream cheese
1/4 cup mayonnaise (Japanese Kewpie mayonnaise is wonderful if you can find it!)
1 tsp fresh lemon juice
1/2 teaspoon salt
1/4 teaspoon black pepper
2 tablespoons finely chopped roasted red bell pepper
1 scallion, finely chopped
1/2 plus 1/4 cup grated gruyere cheese
Chopped scallions or parsley for garnish
Directions
Preheat oven to 400.
Slice the baguette into 12, 1/2" thick rounds. Lightly brush bread slices with olive oil and toast for 3-4 minutes or until golden.
Heat the butter over medium heat, add the garlic, lion's mane and salt, stir, add the water and continue to cook uncovered, stirring occasionally until the mushrooms are tender and the liquid has been absorbed, about 12 minutes. Remove from heat.
In a medium sized bowl, add the cream cheese, mayonnaise, lemon juice, salt and pepper and stir until well blended. Fold in the mushrooms, bell pepper, scallion and 1/2 cup cheese. Taste and season with additional salt and pepper if needed.
Top each of the toast rounds with a helping of the mixture, then sprinkle with the remaining 1/4 cup cheese. Bake until golden and puffed, about 10-12 minutes. Garnish with scallions or parsley.
---