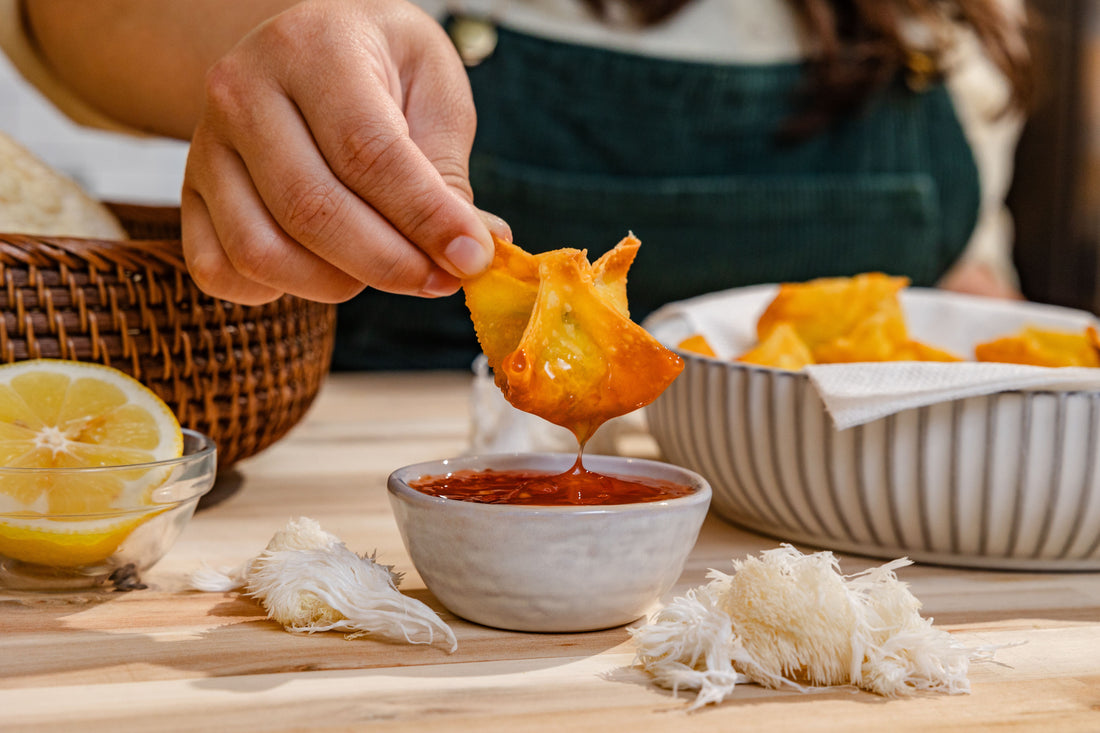 Lion's Mane Crab-less Rangoon
A delicious version of a popular appetizer! Get out the box and head east for a fabulous starter to any meal that is great to share with friends and family.
Recipe courtesy of Krista Towns
Makes 24 wontons, 6-8 appetizer servings
Ingredients
3 tablespoons unsalted butter
1 small garlic clove, minced
1/2 teaspoon salt
2 cups cleaned, shredded and chopped

 

lion's mane mushrooms

 

(about 1/2 " pieces)
1 cup whipped cream cheese
1 finely chopped green onion (scallion), green part only
1/2 tsp Worcestershire sauce
1/2 teaspoon fresh lemon juice
Salt & Black Pepper (to taste)
24 wonton wrappers
1/2 cup water
2 teaspoons flour or cornstarch
oil for frying
Directions
Melt butter in a medium saucepan over medium low heat. Add the garlic and sauté for 2 -3 minutes or until just golden. Stir in the mushrooms, sprinkle with salt and cook, stirring occasionally until the mushrooms are cooked and tender, about 8-10 minutes. Set aside and cool.
In a medium bowl combine the cream cheese, green onion, Worcestershire and lemon juice. Fold in the mushrooms, combine thoroughly, taste and adjust seasoning with salt and pepper.
Mix water and flour together in a small bowl.
Place a heaping teaspoon of the mushroom mixture in the center of a wonton wrapper, fold into a triangle shape sealing the edges with the water/flour.
Heat 2-3 inches oil in a heavy saucepan to 330-350 degrees, and fry the wontons, working in batches until golden brown.
Serve with sweet chili or sweet and sour sauce!
---